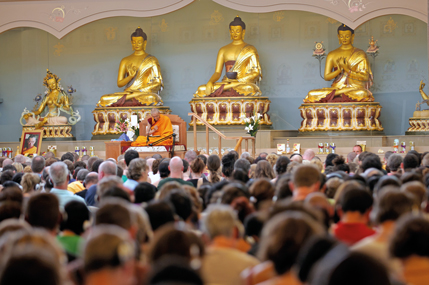 Friday October 25 (Je Tsongkhapa Day)
The Festival will begin in the evening of this special day with an introduction by Venerable Geshe Kelsang Gyatso, marking the beginning of truly auspicious week in the presence of the holy Spiritual Guide.
Saturday October 26
Venerable Geshe Kelsang Gyatso will grant the blessing empowerment of Great Mother Prajnaparamita, a female Buddha who is the manifestation of Buddha's perfection of wisdom. Her function is to overcome maras – the outer and inner obstructing demons – and to bestow the realization of the higher perfection of wisdom.
Sunday October 27 – Tuesday October 29
Venerable Geshe Kelsang will give three days of explanation and transmission of his book, The New Heart of Wisdom. He will teach how to train in the perfection of wisdom that Buddha explained in his Sutra teachings and how to train in the higher perfection of wisdom that Buddha explained in Highest Yoga Tantra. He will also give the blessing transmission and essential explanation of The Blissful Path – The condensed self-generation practice of Vajrayogini – and the Uncommon Yoga of Inconceivability.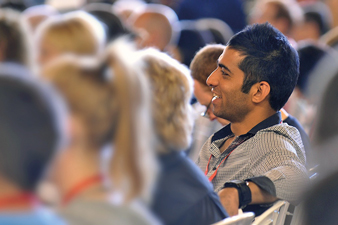 Tuesday October 29 (pm) – Wednesday October 30
There will be a day and half of retreat on the teachings given by Venerable Geshe Kelsang. Following the tradition of the ancient Kadampas, doing retreat immediately after receiving a teaching enables us to take the meaning of the teaching deep into our hearts.
Thursday October 31 (am)
The Festival Play – The Life of Atisha -  will be performed on the morning of Thursday October 31 by Kadampa students attending the Festival.
The Perfection of Wisdom Sutras explain all the stages of the paths of wisdom and method. 'Wisdom' refers to a realization that releases our Buddha nature from obstructions, and 'method' refers to a realization that ripens our Buddha nature.

Venerable Geshe Kelsang Gyatso
The New Heart of Wisdom