FESTIVAL LUNCHES
Convenient, affordable, healthy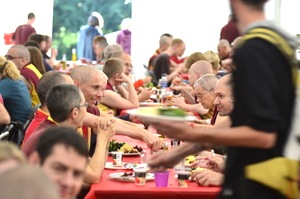 Pre-booking your lunch through the Festival guarantees you a healthy, affordable, vegetarian meal each day, with the convenience of staying on site. You can relax and enjoy your lunch and the Festival atmosphere without having to go into town in search of food.
Cascais is a small town with limited restaurants and cafes able to cater for vegetarians – most of the local cafes think "vegetarian" means fish! If you're looking for healthy, affordable, vegetarian food then we definitely recommend pre-booking Festival meals. Meals are limited so book soon!
Meals at this Festival will be different to the usual Festival experience. You can choose from a selection of 8 menu options each day. You pre-book your lunches by logging in to your Festival booking cart and selecting "Add an option". When you register on arrival you will be given tickets for each of your pre-booked meals. Lunch will be served in a large food court style marquee – you line up to collect the meal of your choice and then sit wherever you want. So, you and your friends aren't limited to choosing the same meals each day.
We've simplified the meal descriptions on the booking system so, if you would like to be tempted by a more detailed description of the meal options, go to the website or see the complete menu below. Each meal is €6 and comes with a bottle of water.
Please note that after Tuesday evening, October 22nd, 6pm GMT, while you can make a new booking, you will not be able to make any changes to your booking cart online. Any changes will need to be made in person at the Festival site in Cascais.
Saturday 26: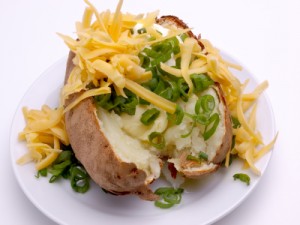 White rice with mixed bean chilli (black eyed, pinto and aduki beans) (v, gf)
Pasta tossed with a homemade pesto of black olives, sundried tomatoes, parsley and pine nuts served with salad greens (v)
Baked potato served with cheese, sour cream & chives (gf)
Feta cheese, lettuce, tomato and carrot sandwich + Packet of crisps
Hummus and grilled vegetables sandwich + Packet of crisps (v)
Cream of mushroom soup with Rustica salad (Pasta, mushrooms, grilled eggplant & courgette [zucchini] and chickpeas)
Vegetable soup with Tofu salad (Lettuce, diced tofu, cherry tomatoes and carrots) (v, wf)
Pizza with tomato, mozzarella, ricotta cheese and spinach
Sunday 27:
White rice and chana dahl flavoured with Indian spices (v, gf)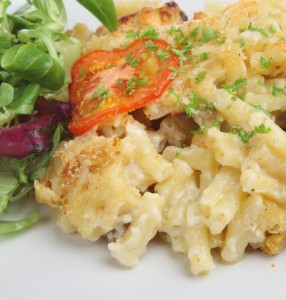 Macaroni bathed in a rich cheese sauce with a hint of nutmeg served with salad greens
Baked potato served with hummus and toasted seeds (v, gf)
Cheese and salad sandwich + Packet of crisps
Grilled eggplant & mushrooms with cherry tomatoes & carrot with soy butter sandwich + Packet of crisps (v)
Coriander cream soup w French salad (Lettuce, feta cheese, soya, mozzarella cheese, cherry tomatoes and pine nuts)
Carrot, pumpkin & green bean soup w Mixed salad (Lettuce, tomato, carrot, soya, onion, sunflower seeds and chickpeas) (v)
Pizza with tomato, buffalo mozzarella and arugula
Monday 28:
White rice with mixed bean chilli (black eyed, pinto and aduki beans) (v, gf)
Pasta tossed with a homemade pesto of black olives, sundried tomatoes, parsley and pine nuts served with salad greens (v)
Baked potato served with cheese, sour cream & chives (gf)
Buffalo mozzarella, carrot, tomato & lettuce sandwich + Packet of crisps
Tofu, courgette [zucchini], cherry tomatoes, carrot & lettuce with sesame seeds marinated in soy sauce sandwich + Packet of crisps (v)
Cream pea soup with Tropical salad (Pasta, cheese, mango, pineapple, walnuts and chickpeas)
French garlic, spinach, carrot and bean soup with Mixed leaf salad (Lettuce, carrots, grain, soya and tomato) (v)
Pizza with tofu, tomatoes, peas, corn and onion (v)
 Tuesday 29: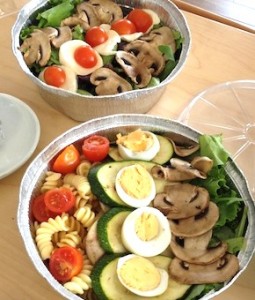 White rice and chana dahl flavoured with Indian spices (v, gf)
Macaroni bathed in a rich cheese sauce with a hint of nutmeg served with salad greens
Baked potato served with hummus and toasted seeds (v, gf)
Feta cheese, lettuce, tomato and carrot sandwich + Packet of crisps
Hummus and grilled vegetable sandwich + Packet of crisps (v)
Cream of mushroom soup with Rustica salad (Pasta, mushrooms, grilled eggplant & courgette [zucchini] and chickpeas)
Vegetable soup with Tofu salad (Lettuce, diced tofu, cherry tomatoes and carrots) (v, wf)
Pizza with eggplant, tomato, grated parmesan and corn
Wednesday 30:
White rice with mixed bean chilli (black eyed, pinto and aduki beans) (v, gf)
Pasta tossed with a homemade pesto of black olives, sundried tomatoes, parsley and pine nuts served with salad greens (v)
Baked potato served with cheese, sour cream & chives (gf)
Cheese and salad sandwich + Packet of crisps
Grilled eggplant & mushrooms with cherry tomatoes & carrot with soy butter sandwich + Packet of crisps (v)
Coriander cream soup with French salad (Lettuce, feta cheese, soya, mozzarella cheese, cherry tomatoes and pine nuts)
Carrot, pumpkin & green bean soup with Mixed salad (Lettuce, tomato, carrot, soya, onion, sunflower seeds and grain) (v)
Pizza with peppers, onions, olives and mushrooms