Artist's impression of the completed temple site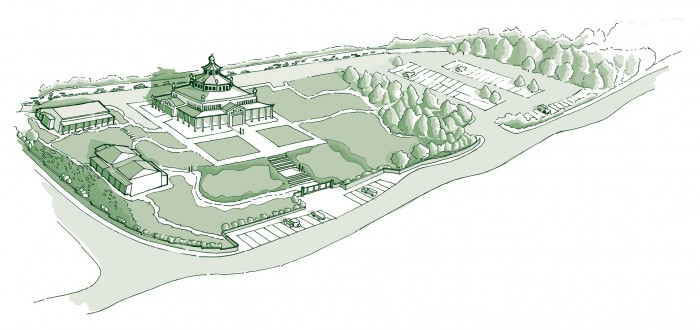 In October 2013, the NKT-IKBU International Fall Festival will celebrate the opening of the Kadampa Temple for World Peace in Varzea da Sintra, Portugal. Home to Deuachen KMC – Portugal. The three-acre site will comprise:
A traditional Kadampa Temple

that can seat 450 people for regular activities, and which can be extended to accommodate up to 800 for Festivals and other major events.

A public building

housing a World Peace Cafe, shop, commercial kitchen, visitors' accommodation, office, and managers' accommodation

A residential building

with single and twin rooms, all self contained with private kitchens and bathrooms
The Temple shrine will include large statues of Buddha Shakyamuni, Tara, Avalokiteshvara, Je Tsongkhapa and Sons, Dorje Shugden Five Lineages, and the recently cast statue of Venerable Geshe Kelsang Gyatso.
The site is only a 30 minute drive from Lisbon and so is easily accessible for those wishing to live at the KMC and work in the city.
'Buddhist Temples are representations of the Pure Land of an Enlightened Being. They are symbolic of an enlightened heaven.'
Venerable Geshe Kelsang Gyatso