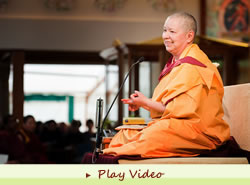 On the second day of the Spring Festival, Deputy Spiritual Director of the NKT-IKBU, Gen-la Kunsang captured the essence of Gen-la Dekyong's introductory talk by reminding us that, everyday, we need to be even more determined than the day before to use our life for spiritual development. She reflected on Gen-la Dekyong's encouragement and emphasised the point, that now it is our turn. It is our turn and our time to encourage ourselves.
Gen-la Kunsang then guided a meditation from Joyful Path of Good Fortune on our precious human life.
In the following meditation session, Gen-la Kunsang encouraged us to use our precious human life to achieve the three attainments: liberation from lower rebirth, liberation from samsaric rebirth and the final goal, the attainment of full enlightenment.
The Empowerment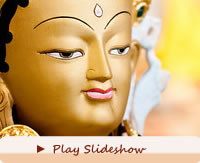 Gen-la Dekyong granted the empowerment of Arya Tara today and began by explaining who Arya Tara is and how she functions to help us. Gen-la shared with us that Tara is a female Buddha who is the manifestation of the wind element of all the Buddhas and that is why she appears green.
Inner winds have a special relationship with minds; our minds can function only by working together with the inner winds. Gen-la explained that if we have impure winds, we have impure minds and if we have pure winds we have pure minds.
Finally, Gen-la encouraged us to remember Tara always and access her blessings continuously to benefit ourselves, our family and all living beings.
OM TARE TUTTARE TURE SOHA - Green Tara's Mantra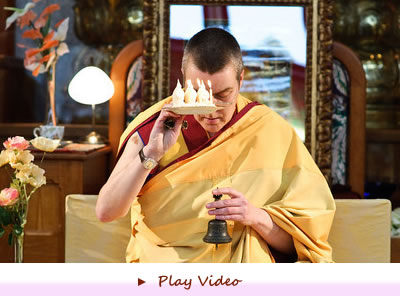 Quote of the Day
Developing the wish to take the essence of this precious human life is said to be the key that unlocks the door of Dharma. It is also said to be our best friend because it influences us powerfully to use our life in the best way.
Interview


Tara is refuge to me. When I need help, there is certainty in my mind that I'll turn to her and she'll be there. When I engaged in a Tara retreat I realized how constant her presence is - just like the wind that blows outside, Tara is always around us. - Jo, UK