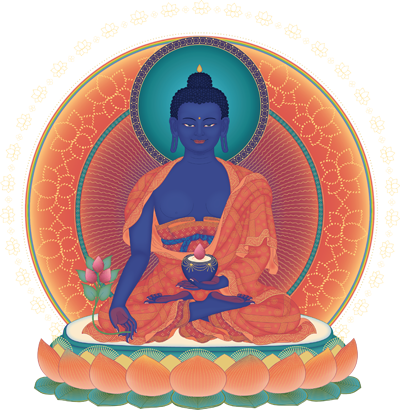 2020 NKT-IKBU INTERNATIONAL
Medicine Buddha Empowerment and Teachings
with Gen-la Kelsang Dekyong

Friday 

October 23

Teaching with Gen-la Kelsang Dekyong

Available from 19:30 (UK)
Duration 1hr 30min

Saturday

October 24

Guided Meditation with Gen Chokga

Available from 09:00  (UK)
Duration 1hr

Guided Meditation with Gen Chokga

Available from 11:30 (UK)
Duration 1hr


Blessing Empowerment of Medicine Buddha with Gen-la Kelsang Dekyong

Available from 16:00 (UK)
Duration 2hr


Wishfulfilling Jewel Puja with Tsog Offering

Available from
19:30 (UK)
Duration 1hr


Sunday

October 25

Guided Meditation with Gen Chokga

Available from 09:00 (UK)
Duration 1hr


Teaching with Gen-la Kelsang Dekyong

Available from 11:00 (UK)
Duration 1hr 30min


Teaching with Gen-la Kelsang Dekyong

Available from 16:00 (UK)
Duration 1hr 30min

Offering to the Spiritual Guide Puja

Available from 19:30 (UK)
Duration 1hr 30min


Monday

October 26

Guided Meditation with Gen Chokga

Available from 09:00 (UK)
Duration 1hr


Teaching with Gen-la Kelsang Dekyong

Available from 11:00 (UK)
Duration 1hr 30min


Teaching with Gen-la Kelsang Dekyong

Available from 16:00 (UK)
Duration 1hr 30min


Wishfulfilling Jewel Puja with Tsog Offering

Available from 19:30 (UK)
Duration 1hr


Tuesday

October 27

Guided Meditation with Gen Chokga

Available from 09:00 (UK)
Duration 1hr


Teaching with Gen-la Kelsang Dekyong

Available from 11:00 (UK)
Duration 1hr 30min


Retreat Session 1 with Gen Rabten

Available from 15:00 (UK)
Duration 1hr


Retreat Session 2 with Gen Rabten

Available from 17:00 (UK)
Duration 1hr


Retreat Session 3 with Gen Rabten

Available from 19:30 (UK)
Duration 1hr


Wednesday

October 28

Retreat session 4 with Gen Rabten

Available from 09:00 (UK)
Duration 1hr


Retreat session 5 with Gen Rabten

Available from 11:00 (UK)
Duration 1hr


Retreat session 6 with Gen Rabten

Available from 15:00 (UK)
Duration 1hr


Retreat session 7 with Gen Rabten

Available from 17:00 (UK)
Duration 1hr


Retreat session 8 with Gen Rabten

Available from 19:30 (UK)
Duration 1hr


Thursday

October 29

Retreat session 9 with Gen Rabten

Available from 09:00 (UK)
Duration 1hr

Retreat session 10 with Gen Rabten

Available from 11:00  (UK)
Duration 1hr

Translation
All Festival teachings, meditations and retreat sessions will be conducted in English. Translated captions and audio feeds will be provided for all sessions and must be selected at the time of booking. See booking form for languages offered.
Fees
Whole Festival: £115
Streamed sessions will remain online until 24:00 hours (UK time) on 12 November.
Audio Recordings
Audio recordings may be purchased when making a booking, or if you have already booked, through the 'add option' feature in your booking cart. Audio Recordings are of the teaching sessions only and do not include the guided meditation or retreat sessions. Recordings may be ordered in the following languages: English, German, Spanish, Portuguese, French, Cantonese, , Mandarin, Greek, Italian, Japanese, Vietnamese.
All Teaching sessions - £18
Recordings may only be purchased for sessions that you have registered for.
Recordings are for the sole use of the registered recipient and should not be shared.
Deposit and Balance Payment
A 25% deposit is required at the time of booking. To avoid any delay in receiving the links, full payment must be received 7 days before the start of the event – 16 October. Bookings made within 7 days of the Festival must be paid in full at the time of booking.
Late Bookings (within 24 hours of start of Festival or after Festival has started):
Late Bookings ie. those made after 19:30 hours (UK) on 22 October will receive the links 24 hours after booking, or later in the event of a large number of late bookings being received. Please help us to get the links to you in a timely manner by not booking last minute.
See Terms & Conditions for full payment and cancellation policy.