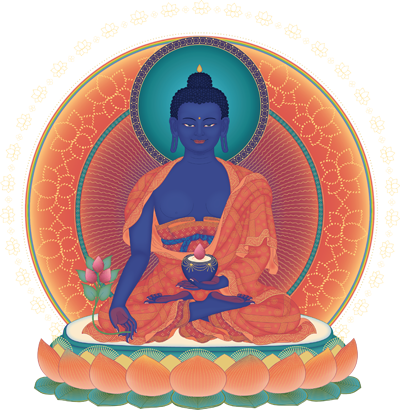 2020 NKT-IKBU INTERNATIONAL
"WHO WILL HELP WHEN THE WORLD IS FULL OF DISASTER?"
Empowerment & teachings at the Festival
At the Fall Festival 2020, Gen-la Kelsang Dekyong will grant the empowerment and teachings of Medicine Guru, or Medicine Buddha.
Medicine Guru is a Buddha Doctor whose function is to release living beings from outer and inner sickness by bestowing blessings upon them.
At one time, Bodhisattva Manjushri asked Buddha what would happen in the future, "when the world is filled with problems, dangers, adversities, disasters, and famine; and many incurable diseases develop?"
"Living beings alive at that time," Bodhisattva Manjushri continued, "will experience unbearable physical suffering and mental pain. Who will release them from those sufferings? Who will protect them and care for them?'"
In response Buddha replied, "In the future, if living beings rely on the Medicine Buddhas, they will be cured of otherwise incurable physical disease and mental pain, as well as all other outer and inner diseases.
Buddha also explained the methods for receiving blessings from these Buddhas, the benefits of relying on them, how to accomplish a special power of body, speech and mind through the practice of the Medicine Buddhas, and how to use this special power to benefit others through healing actions.