2019 NKT-IKBU INTERNATIONAL
MAY 24 - 29 · Manjushri Kadampa Meditation Centre, UK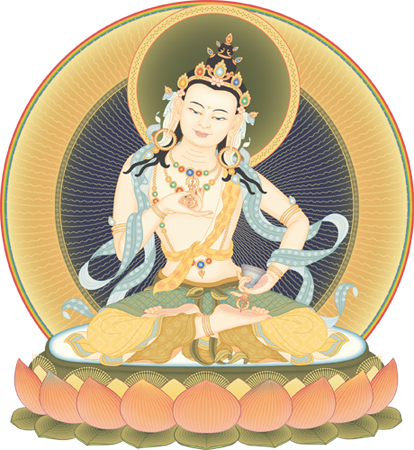 On-site Accommodation
Staying on-site gives us the full experience of our International Festival, and many opportunities to meet and share experiences with our Kadampa family from around the world.
In addition to Manjushri KMC's guest accommodation, many of the residential community vacate their rooms so that they can be offered to guests.  For this reason, there are a limited number of single and twin/double rooms available pre & post Festival. If your chosen pre/post Festival accommodation option is not available, we will offer an alternative.
Onsite accommodation is in high demand.  In order to be able to offer accommodation to those on the waiting list who otherwise might not be able to attend, full payment is required by May 18 for all onsite accommodation with the exception of camping in own tent or own camper van.  (ie. all single, twin/double, shared room, indoor dorm, marquee dorm, and pre-erected tent bookings).  This is non-refundable unless we are able to re-sell your room.  See Terms & Conditions for deposit and cancellation terms.
Indoor Accommodation Options:
| | |
| --- | --- |
| Single* |   |
| Twin* | (2 Beds) |
| Double* | (1 large bed) |
A limited number of the above rooms are available with ensuite bathrooms.
All linen and towels are provided.
| | |
| --- | --- |
| Shared rooms* | 4-7 beds (may incl. bunk beds) |
| Indoor dormitories | 8+ beds (usually bunk beds) |
Please bring a sleeping bag and towel.
Bottom sheet, pillowcase and a blanket are provided.
*These accommodation types very limited please book early. You are advised to try
to book at the date/time that booking opens.  If when making your initial booking your
preferred accommodation option is sold out, please contact Festival Registration and
request to be put on a waiting list in case of cancellations.
Outdoor Accommodation Options:
| | | |
| --- | --- | --- |
| Marquee dormitories | Cot beds are provided with pillow and blanket in a marquee tent. | Please bring warm sleeping bag and extra blankets if needed. For safety reasons, these are unheated overnight. |
| Pre-erected Tent | Already set up tent, includes foam mattress, pillow & blanket. | Please bring warm sleeping bag and extra blankets if needed. Must be booked for whole festival. |
| Camping (in own tent) | Camping spaces available in designated areas of the woods. | Ensure your tent is waterproof and that you bring all equipment. Eg.Groundsheet, insulated sleeping mat, warm sleeping bag, blankets etc. |
| Camper Van | Limited spaces available for those bringing their own camper van. | Min stay 3 nights |
Children's  Accommodation
We regret we are unable to accommodate children under 16 in shared rooms or dormitory accommodation.
Children aged 4 and over who are occupying a bed/space in a twin or double room will be charged at full adult rates above.
Children aged 3 and under sharing their parent's bed are free of charge.
Children aged 15 and under who are camping (in parents own tent) are free of charge. It is not permitted for those under 16 to sleep in their own tent, but must share with an adult family member/nominated carer.
In general children aged 3 or under who are camping (in a ready-erected tent) are free of charge and children aged 4 and over will be counted as a paying person. Children aged 3 or under who are camping (in a ready-erected tent) are free of charge if they do not take up an additional person space. Eg. 2 person tent = 2 paying people + child
Young Adults (16 & 17 year olds)
Young Adults cannot be accommodated in shared accommodation with adults other than their parents/legal guardians or family members. 16 and 17 year olds are charged as adults.
Details of offsite hotels to follow.