2018 NKT-IKBU International
JUL 27 – AUG 11 · Manjushri Kadampa Meditation Centre, UK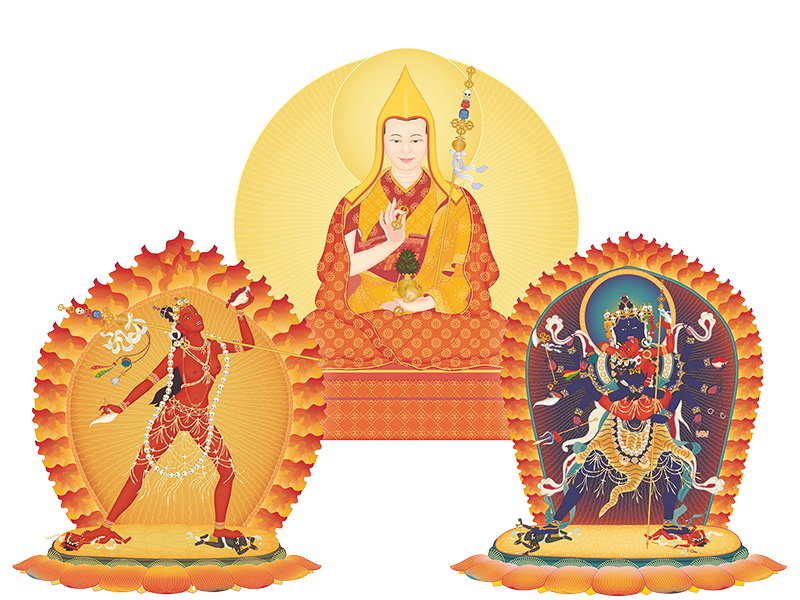 2018 SUMMER FESTIVAL BOOKING TERMS AND CONDITIONS
PLEASE READ THE INFORMATION BELOW CAREFULLY
Separate Booking Required for Each Person: All bookings should be made online. A separate booking is required for each person attending. It is possible to add several bookings to the same booking cart by clicking on the 'make another booking' button whilst in your booking cart.
A booking will only be accepted when made using the online form, and when all necessary information and minimum deposits have been received (see 'How to Book' for booking status information). Bookings cannot be transferred to another person.
How to Make a Booking: Step by Step instructions can be found on the 'How to Book' page.
Booking Confirmation & ID: You will receive an email confirming the details of your booking and payment: Please keep this safe and bring it with you to the Festival. If you are not able to show your confirmation letter you will be required to show some form of photographic identification (eg passport) in order to register for the Festival.
Refund Policy: Please read the following information carefully
Festival Fee: If you cancel before Friday 27 July we will refund all except the non-refundable 25% deposit. If you cancel on or after Friday 27 July, no refunds are given if you cancel all or part of your Festival.
Onsite Accommodation (at MKMC): If you have booked onsite accommodation with the exception of camping in own tent or own campervan (ie. single, twin/double, shared room, indoor dorm, marquee dorm, and pre-erected tent), and cancel your accommodation up to and including July 19, we will retain your 25% deposit. Full payment is required by July 20 and is non-refundable unless we are able to re-sell your room. Camping in own tent or own campervan accommodation, are subject to the same terms as the 'Festival Fee' listed above
Meals: If you cancel before Friday 27 July we will refund all except the non-refundable 25% deposit. If you cancel on or after Friday 27 July, no refunds are given.
Offsite Accommodation: Details of the deposit & refund policy for each of the offsite accommodation options is clearly stated on the 'accommodation' page of the main Summer Festival website, and is subject to the contractual obligations with the accommodation providers.
Hotel & Airport Shuttles: Full payment is required to secure your place on the bus – this will automatically be calculated when you make your booking. Due to contractual obligations this is refundable only up to 1 month before the start of the Festival (26 June), after this date the fee paid is non-refundable. If there is insufficient demand for a bus at a particular time, we will notify you in writing, in this case the fee paid will either be credited against your remaining Festival balance, or if you have a zero balance, we will refund you in full.
Any non-refunded fees arising from cancellations are donated to the NKT-IKBU International Temples Project.
Exceptions: May be made in special circumstances such as sickness or bereavement; you should apply by e-mail to the NKT Treasurer

[email protected]

within 2 weeks of the end of each Festival. This applies to Festival Fee and onsite accommodation.
Early Arrivals and Late Stays: On-site accommodation is available to book through the Festival booking system for 3 nights before and 1 night after the Festival.  Pre-Festival availability for single, and twin or double rooms are limited however. If your chosen pre or post Festival accommodation is not available, we will offer an alternative. Priority for indoor pre/post-Festival accommodation is given to those who are staying in the same accommodation for the Festival itself.
Ordination Ceremony : Please indicate on the booking form if you will be attending the Ordination Ceremony. Please note: only those already ordained, or receiving ordination can attend the actual ceremony itself.
Children (under 16) are welcome to attend the Festival however, some special conditions apply. Please see Festival Kids page of the Summer Festival website for more information. In particular please note that 2 responsible adult carers must be nominated for all children's bookings, and bookings can only be confirmed on receipt of the required photographs of the 2 adult carers. Due to the public nature of the Festival, children's safety and welfare is the responsibility of their nominated responsible adult carers at all times. NKT-IKBU does not assume responsibility for children attending the Festival.
Young Adults (16 & 17 year olds) Young Adults cannot be accommodated in shared accommodation with adults other than their parents/legal guardians or family members.
Special Festival rates apply for children:
Festival Fee: 0-7 FREE, 8-15 years – 50% discount, 16+ years – full adult price.
Accommodation: Children occupying a bed in Twin or Double rooms are required to pay full price (unless 3 years or under and sharing a bed with parents = Free). Under 16s cannot be accommodated in Shared Rooms or Dormitories.
Children who are camping (in parents own tent) are free of charge. It is not permitted for those under 16 to sleep in their own tent, but must share with an adult family member/nominated carer.
In general, children aged 3 or under who are camping (in a ready-erected tent) are free of charge and children aged 4 and over will be counted as a paying person. Children aged 3 or under who are camping (in a ready-erected tent) are free of charge if they do not take up an additional person space. Eg. 2 person tent = 2 paying people + child.
Festival Meals: Children's portions are available. For those 0 - 12 years there will be a charge of 50% of the full price and for those 13 years and above it will be full price.
The Courses You Will Attend: The 2018 Summer Festival begins on the evening of 27 July and will end with the lunch on the final day, Saturday 11 August– see Programme page on website for more info.
Translation Facilities: All Festival Teachings, Meditations and Retreat Sessions are conducted in English. We can provide simultaneous translation into Mandarin, Cantonese, Dutch, French, German, Spanish and Portuguese. Please book in advance as space is limited.
Other languages may be provided subject to demand and availability of a translator. Whilst we cannot guarantee, we will try our best to facilitate other languages. Please do not book for a translation/assisted listening place if you do not require this facility.
Special Needs: Wheelchair accessible toilet and shower facilities are available. Access to the Temple and main building is ramped but we regret some areas of the Priory are inaccessible to wheelchair users.
Hard of hearing assistance is offered in the Temple, please select this option when booking.
Please notify us in advance by e-mail or letter if you have special needs. In particular, if you are a wheelchair user, or require additional seating space in the Temple, please indicate this on your booking form in the special requests section. This will help us to allocate the correct space in the Temple.
If you require more information about access or other facilities please email the welfare team who will try to assist you. [email protected]
Parking Vouchers: To cover the field rental for extra parking space, there is a small daily charge for car parking. If you are disabled and need parking space a little nearer the building please tick the box. There is no charge for disabled parking for registered blue badge holders. As parking space near the building is limited, you must be a registered blue badge holder (or similar in your country), to qualify.